Guiyii is up the Son of Weegee, He was created when Weegee himself stared at a Mirror. He appears in the Rise of Sqeegee 7 as an enemy of Sqeegee. In it he attacks the King and Robotnik while they're having a fight. Then Demon Sqeegee and Dark Sqeegee attack all of them, and Guiyii takes on Dark Sqeegee while the King and Robotnik take on Demon Sqeegee. He can make people go into a trance where he will spin around and cause the victims head to explode.The Brother of Marreoh up the has a Guiyii is a Clone of Luigi
Birth of Guiyii
Edit
Weegee stared at a mirror, and then a demented Weegee was standing in front of him. It was Guiyii.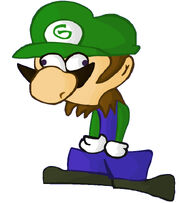 Ad blocker interference detected!
Wikia is a free-to-use site that makes money from advertising. We have a modified experience for viewers using ad blockers

Wikia is not accessible if you've made further modifications. Remove the custom ad blocker rule(s) and the page will load as expected.