Righty 'o-Felix the cat
Felix is a black cat with a magic bag.
His rivals are Professor,Rock bottom,The master cylinder,and previously Captain Kidd.
His friends are Point Dexter .
His actor who voiced him also voiced Oswald and Mickey mouse.
Felix the cat vs Mickey mouse
Edit
Felix the cat is like Mickey mouse, but Mickey mouse is different. Mickey mouse was in Suicide mouse, Felix the cat was never ever in a lost episode. Felix the cat has the same voice actor that voices Mickey mouse.
Personality
Edit
Felix the cat is a kind cat,and wants to help his friends by fighting his enemies so that his friends will be safe. Felix has a magic bag for many uses(Ex:A ladder so that he can climb a tree to get apples). Felix also thinks a lot when he is in trouble.
What Felix does to his enemies
Edit
Felix the cat has enemies like Professor,Rock bottom,The master cylinder,and Captain kidd. Captain kidd stole Felix's goose named Goldie,so Felix the cat threw him down in his ship. Professor wants Felix's Magic bag of tricks,but many things happens to him to make him fail. Rock bottom helps Professor,but he fails too. The master cylinder tries to do evil things but Felix the cat stops him.
Felix gained a voice actor in 1936
Felix got a magic bag in the episode The magic bag
Felix is 95 Years Old
In Tros7, Felix had powers to fuse because once, he drank a liquid to make him fuse
He's a meme because of Joel and SiIvaGunner
Appearance
Edit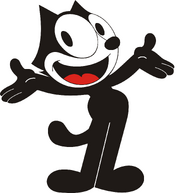 Felix made an appearance in
Rise of Sqeegee 7
where is is summoned by Oireegee and Felix proceeds to pull a Heal Bell (possibly referenced by Pokemon) out of his "bag of tricks" to revert
Suteegee
into a "good guy". Felix then, sadly, vanishes. Then he fuses with Wiki Contributeegee.
Ad blocker interference detected!
Wikia is a free-to-use site that makes money from advertising. We have a modified experience for viewers using ad blockers

Wikia is not accessible if you've made further modifications. Remove the custom ad blocker rule(s) and the page will load as expected.