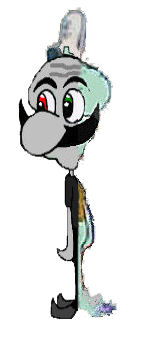 Cyborg Sqeegee was an unused form of
Sqeegee
 that was originally going to appear in the
Rise of Sqeegee 4
, but was scrapped. He was initially going to be Sqeegee's only form in the Rise of Sqeegee 4, and
Dark Sqeegee
was not going to appear. Later on,
Russmarrs2
made Dark Sqeegee, but still kept the idea of Cyborg Sqeegee for the Rise of Sqeegee 4, as the form appeared in the trailer for it. He was eventually just removed from it altogether as he could not be fit in very well. However, he will now appear in the
Rise of Sqeegee 8
, with a different story than he was going to have in the Rise of Sqeegee 4. His ROS8 design is also slightly different, and he wears a chum bucket helmet instead of a Krusty Krab hat.