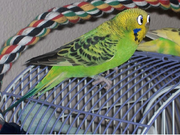 A Budgeegee is a common pet in the United Gees` Universe. In the Rise of Sqeegee 6, it was featured in the Pokemon Battle at 3 minutes 54 seconds, which said "
Fire Sqeegee
Used Flaming Budgeegee!" 
The Budgeegee was created in 2013 by a Weegee fan with 2 pet budgerigars they loved. So they decided what will be a budgie and a Fakegee, and they came up with the name Budgeegee. It was on Weegeepedia, with the Budgeegee picture simply just a budgerigar with Weegee`s eyes, edited by russmars2. Then, they asked russmarrs2 to feature it on Rise of Sqeegee 6, and it really was in the video.
In Rise of Sqeegee
Edit
For less than a second at 3 minutes 54 seconds, a flaming Budgeegee crashes into Luigi in Rise Of Sqeegee 6.
The Budgeegee`s name comes from the words "budgie" and "Weegee". When they are combined together, there are 3 possible names making sense: Budgeegee, Budgee, and Budgaweegee.
Budgeegees are also called Budgaweegee or Budgee.
If Budgeegees are moving at terminal velocity, they turn into Torchic, as stated by its creator.
And possibly if a Budgeegee turned into Torchic if the Torchic is moving at terminal velocity it will turn it into Combusken.
And even more possibly is if a Budgeegee is turned into Torchic and the Torchic is turned into Combusken if Combusken moves at terminal velocity it will possibly become Blaziken.
If Blaziken moves at terminal velocity it will create a shockwave.
If a Budgeegee and Torchic and Combusken fused it would created Budgorchicusken.
If a Budgeegee, Torchic, Combusken and Blaziken fused together it would created Hyperiken.
If Budgorchicusken fused with Hyperiken it might create Megiken.
Budgeegee has 2 more forms. They are Epiciken (Created if they all fuse together) and Budorskenibudgorhypermegiciken (Created if they all fuse together with Epiciken).
Here are Budgeegee's forms weakest to strongest: Budgeegee, Torchic, Combusken, Blaziken, Budgorchicusken, Hyperiken, Megiken, Epiciken and Budgorskenibudgorhypermegiciken.
Ad blocker interference detected!
Wikia is a free-to-use site that makes money from advertising. We have a modified experience for viewers using ad blockers

Wikia is not accessible if you've made further modifications. Remove the custom ad blocker rule(s) and the page will load as expected.